2022 Beijing Institute of Technology
International Winter "Cloud Lessons" Program
Program Description: Beijing Institute of Technology had successfully held International Winter and Summer "Cloud Lessons" for consecutive two years with over 500 international students joining us. In the winter of 2022, BIT has designed an online Chinese language and culture program that will introduce the practical Chinese language alongside fascinating Chinese traditional and modern culture from history, custom, arts to society. All courses will be delivered by professional and experienced Chinese teachers. Studying Chinese at Beijing Institute of Technology is a good way to broaden your cultural and academic horizon at the Top 20 universities in China (QS World University Rankings 2022).
This course will allow you to:

Gain a foundational knowledge of the Chinese daily language

Focus on intensively communicative practice and receive instruction from native Chinese teachers

Understand Chinese history, arts and unique modern life

Develop a culturally comparative way of thinking while learning language

Experience traditional Chinese culture like Chinese knots and paper-cutting

Make friends with students from various cultural backgrounds in the world
Program Summary:
| | |
| --- | --- |
| Date | 27 December-07 January (3-6:30p.m.Beijing time) |
| Duration | Two weeks (50 hours) |
| Credits | 3 credits |
| Teaching method | Live-streaming+Video recording |
| Delivery platform | Tencent meeting/ VooV meeting/ Classin |
| Course fee & Payment | Free for students from partner universities; RMB 1000 for other students |
| Course achievements | An electronic certificate of completion and electronic transcript with the credits from the Beijing Institute of Technology |
| Application Deadline | 15 December 2021 |
Course Schedule: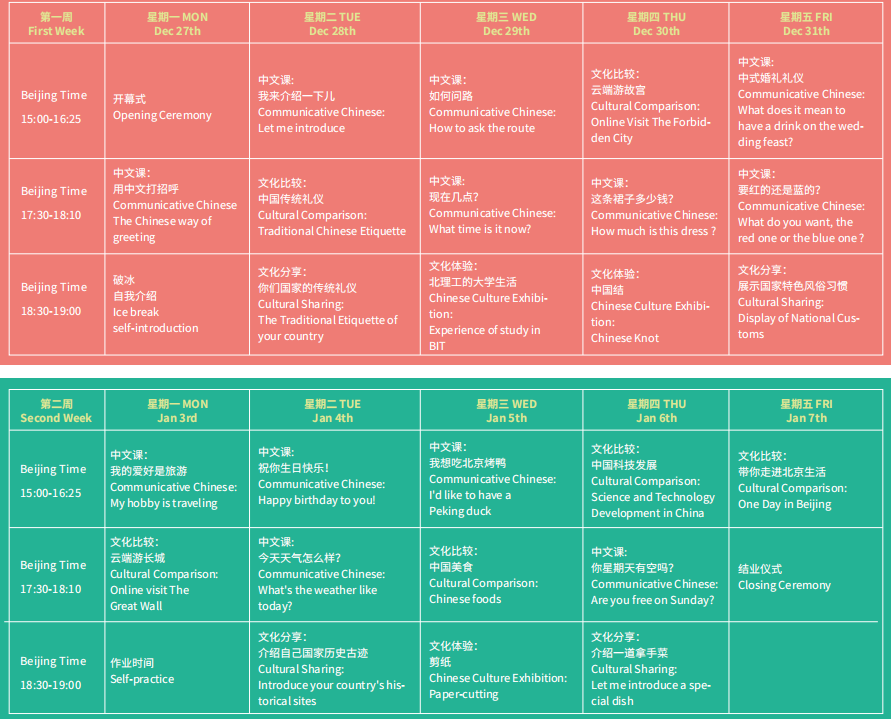 Note:

1. The schedule is subject to slight adjustment.
2. If you cannot attend some of the live-streaming classes, you also have the access to video-recording to back you up.
3. After class, you will have Chinese exercise homework and one-to-one instructions from Chinese teachers, which is not arranged on the schedule.
Qualification:
1.Non-Chinese citizen
2.Student who has an interest Chinese language and culture (Chinese proficiency is not required)
Application Procedure:
Register at apply.isc.bit.edu.cn →Create your account and log in → Choose "Short-term Programs"一 Choose "Short-term Programs (online courses)"→"Apply"→ Fill your personal information and upload the required documents →Click "Submit" and "OK" to complete your application profile.
Tip: In application, please fill in the full name of your home university in the "Recommender-Organization" and "Educational Background" part.
Application Materials:
1. ID photo with white background
2. The front page of Passport (if you don't have one, upload a piece of blank paper instead)
3. Chinese learning transcripts and certificates/HSK certificates (if you don't have one, upload a piece of blank paper instead)
Contact: jiapeishen@bit.edu.cn; isc@bit.edu.cn
Welcome to join us!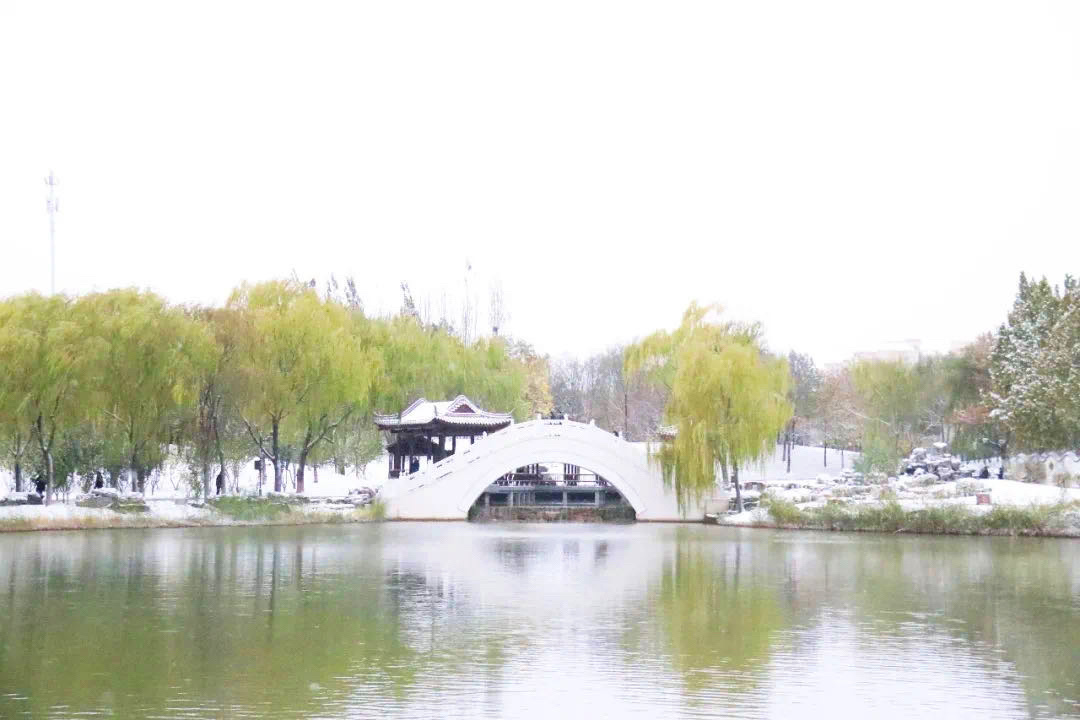 相关附件
Guide for applying Short-term Program.pdf