2022-01-14
2022年北京理工大学冬季"云课堂"圆满结束
为探索"后疫情时代"国际人才培养新模式,北京理工大学留学生中心精心策划并举办了线上"云课堂"暑期项目,至今为止,北京理工大学已经成功举办4期云课堂项目,积累了丰富的经验,形成了北理特色品牌。2022年冬季云课堂于2021年12月27日开幕,历时两周,本次云课堂共吸引来自德国、西班牙、葡萄牙、波黑、斯洛伐克、安道尔等28个国家25所高校的200余名优秀国际学生来参加。
本次云课堂继续沿用语言学习和多元文化分享相结合的主旨,采用教师讲解和学生分享相结合的多模态教学方式,以学生喜闻乐见的话题形式将汉语和中国文化向各国学生娓娓道来。在整个学习过程中,学生都保持着饱满的学习热情,一方面领略中国文化的魅力,另一方面与其他国家的同学分享自己国家的文化习俗。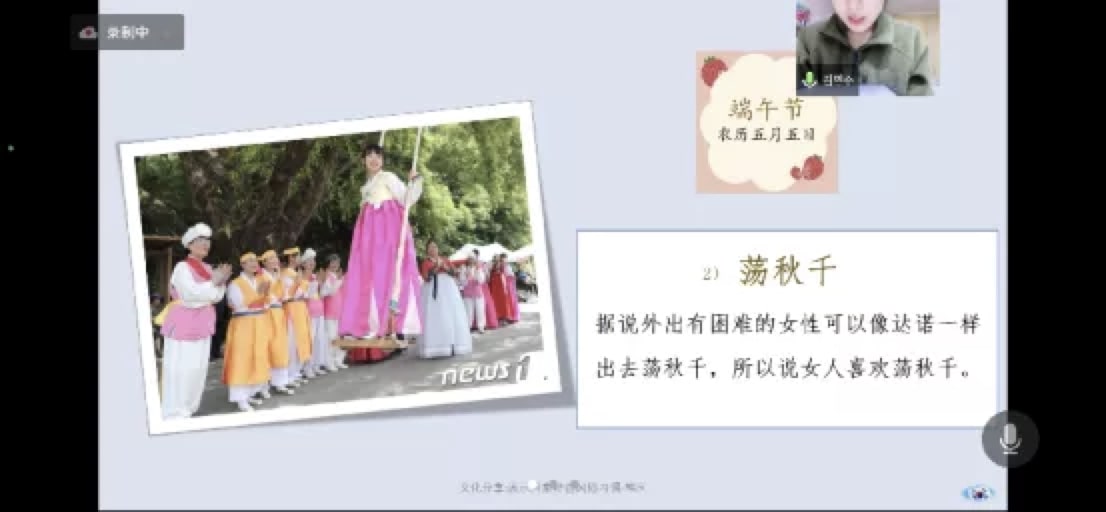 (学生分享自己国家的文化)
本次云课堂分为中文课、文化比较、文化体验和文化分享4个板块,同学们学习了如何问路、时间表达、购物方式、谈论天气等等基本的日常交际表达方式;也学习了中国科技、中国经济、中国美食、中国传统礼仪等多角度的中国文化;隔着屏幕跟老师一起体验了剪纸和编制中国结的传统手工艺术;以小组为单位准备资料,跟同学们分享了自己国家的特色文化。
(同学们学习剪纸)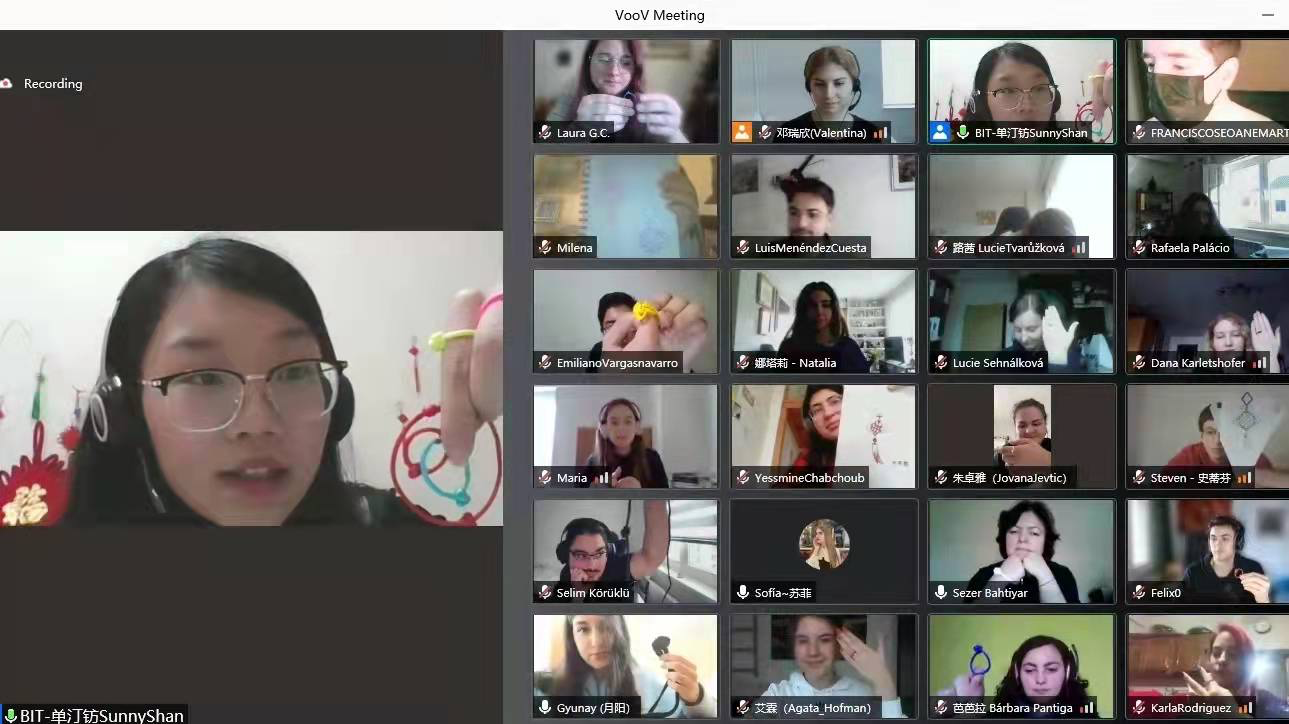 (同学们学习编中国结)
由于受疫情影响,同学们无法身临其境感知博大精深的中国文化,为了弥补这一缺憾,老师们亲自制作了云游系列,让学生们通过网络跟老师一起登上雄伟的长城、走进古老的故宫,聆听老师详细的讲解,品读千年历史故事。
两个星期的学习时间稍纵即逝,在结业典礼上,同学们纷纷感叹时间过得太快,希望有更多机会学习中国文化;最后大家一起祈祷疫情早日结束,早日来中国相聚。
通过云课堂的学习,突破了国际学生受疫情影响无法来中国学习汉语和中国文化的障碍,也为我校开拓了更广泛的生源市场。
部分学生感言
Jovana Jevtić,Bosnia and Herzegovina:
我叫Jovana。我的中文名字叫朱卓雅。我是波黑人。我喜欢汉语。我想去中国旅游。First, I would love to say that I signed up for this course to learn more about China and the Chinese language. We learned so many things such as numbers, colors, new words. And we also learned how to make our first button knot and how to paper-cutting! I can't forget to mention our online visiting some of Beijing's historical sites (The Forbidden City and The Chinese Great Wall). I admire that all professors did everything they could to make this more realistic. I hope, someday we can come to BIT to learn, and to Beijing to see those beautiful historical sites! 谢谢!
Lucie Sehnálková,Czech:
First thank the teachers for their hard work, patience and for such a friendly atmosphere. As a fellow teacher who has the experience of teaching foreign students, I really apreciate your work and I have learned a lot from you. I would like to give special thanks to our teacher Xu-laoshi who supported and cheered on us throughout the whole course. Duoxie, Xu-laoshi!
I have greatly enjoyed these two weeks and I have learned a lot. One thing I really liked was the wide range of topics covered – from greeting and etiquette, through shopping and ordering in a restaurant to weather and traveling – and also the many opportunities to practice our knowledge directly with the teacher. I really like interactive form of learning and this one fit me perfectly. So at the end of the course I feel like I have grasped the basics of Chinese language on which I can build later on. As a person greatly interested in culture, I just loved lessons dedicated to Chinese culture and the way it ran parallel to the topics covered in our language classes. In that aspect I think the course is very well structured. The materials our teachers used added another layer to the whole course and a thing everybody greatly enjoyed, I think.
I think the whole course can be summarized in three sentences which I found the most accurate for describing my whole experience = to Chinese landscape 1) Hen hao kan!; to Chinese cuisine 2) Hen hao chi!; to the course 3) Wo xiǎng qù Zhongguo!
Gonçalo Eduardo Cascalho Raposo,Portuguese:
Dà jiā hǎo, hello everyone, my name is Gonçalo or in Chinese, Wáng Shào Chuān, and, firstly, I'd like to thank for the opportunity to share my experience on this online course. Before continuing, I also would like to thank all the lǎo shī for their hard work organizing this online event and making sure that all the participants, which I think are more than one hundred, were having a good time and learning about the Chinese language and culture. And of course, it was a pleasure meeting all my colleagues. I don't know about everyone else, but it wasn't as hard waking up super early in the morning when I knew that my friends in America had it even harder but still showed up. Xiè xiè!
Ok, now back to my experience. For the past 5 months, I have been learning Chinese by myself, but as you know, that has some limitations. I was able to learn some vocabulary and grammar, but, when it came to the pronunciation or even hànzì, the Chinese characters, I was struggling a lot. And don't get me wrong, I didn't suddenly become fluent in Chinese and able to speak and write perfectly. However, in these very short two weeks, I was able to improve both my speaking and reading abilities (although still depending a lot on pinyin) but, most importantly, we all got this great opportunity of learning a lot about Chinese culture and traditions.
I particularly enjoyed this because my grandmother is from Macau and my great-grandmother was Chinese, so I feel like I was able to be one step closer to understanding their origins.
And I think I can speak for everyone when I say that after these two weeks, I am a lot more motivated to learn Chinese and research about China. I still get very impressed with how big China is, with a lot of people and a rich history, and how I am only now getting to know them and starting to be able to communicate with them in their native language. It's also very fun to see where our cultures are similar and different, but, nonetheless, we can all still have an excellent and respectful time together.
I really hope I can visit China one day and get closer to its people and culture. If I'm able, I will for sure visit BIT... and, maybe, we can all go eat some hot pot!
Thank you for listening to me and, next time, I hope to see you all in China.
Xiè xiè nǐ men! Xiè xiè BIT!
供稿:彭美琴
截图:牧骑
编辑:李欣玥
审核:谢非