2019年7月北理学术学分项目招生简章
2019 BIT ACCP Summer Session Application Opens
北理学术学分项目简介
为促进北理工与海外知名大学的交流合作,实现资源共享,学科共建。北理工留学生中心将于2019年7月继续开设北京理工大学学术学分课程。7月期项目将开设社会科学、工程学、金融等全英文课程。课程按照国际高质量高标准的课程进行设置,授课对象为国内外本科生、硕士生,授课教师来自著名高校,经验丰富。授课方式采用研讨式教学、案例教学等多种教学方式,并组织安排学生进行课程实习和实践,每门课程人数上限为50人。
Brief Introduction of BIT ACCP
The Beijing Institute of Technology Academic Credit Courses Program (BIT ACCP) is one of the programs under the BIT Office of International Students which offers credit courses in general education, liberal arts and professional majors plus internship, professional visits and workshops in Chinese corporate, institutions and organizations as well as study tours in urban and rural China.
All the courses are taught by the professors from the U.S. universities and a few of Chinese professors with U.S. higher education institution degree and background. The courses are the same as they are in U.S. universities, including the course design, teaching format, textbooks, syllabus, and assessment. All the students must meet the requirements as they are in the U.S. universities in order to be awarded the credits and certificate.
The program courses are mostly composed from but not limited to the fields as follows:
开课时间
2019年7月1日至8月2日
Course Duration: Jul. 1-Aug. 2, 2019
开课目录
The courses are listed as below:
申请
申请要求
我们欢迎来自国内外高校的本科生、研究生参加北京理工大学学术学分课程。参加课程的同学都需经过英文能力的审核。由于所有课程均为英文授课,申请者须至少达到以下其一条件:
1.雅思成绩不低于6.5分,听说读写不低于6.0分;
2.英语为母语或来自于正在以英语作为教学语言的大学;
如何申请
通过邮件,电话与项目联系,下载并认真填写 《北京理工大学学术学分课程申请表》,扫描发送至项目邮箱:bitstp@bit.edu.cn 。项目办会在五个工作日内通知学生录取结果。学生就读本项目前,须向其所在大学申请预转学分,获得批准后再进行本项目学习。
所需材料
1. 申请表;
2. 护照扫描件;
Application
Who can apply
The BIT ACCP is particularly designed for undergraduate and graduate students from universities all over the world, especially universities in Australia, US ,Canada, as well as other English speaking countries. All the courses will be taught in English. Applicants are required to meet at least one of the following requirements.
1. A minimum score of 6.5 points for the IELTS or a minimum score of 90 points for the
TOEFL.
2. Currently attend in /graduate from a school that using all-English teaching.
How to apply
1. Contact us by email/phone/website and you will receive an application checklist.
2. Follow the instructions to submit your application.
3. You will receive an admission letter and be informed of the information needed via email.
4. If admitted, you should reply to us whether you would accept the admission or not.
5. Pay the tuition and confirm your enrollment.
6. Get prepared for your journey!
What are needed
1. Application form.
2. Photocopy of passport.
申请截止
截止日期2019年6月23日
Deadline
The deadline for 2019 summer session on application is June 23, 2019.
项目学费
Tuition and Fees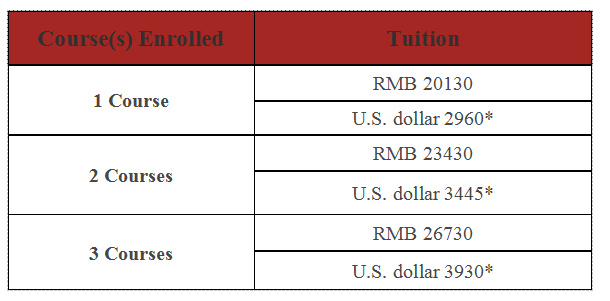 Notes:
1 Early Bird Applicants will have a 20% discount of tuition before Jan.15, 2019,the deadline of discount is 24:00 (Beijing time).
2* Based on the current exchange rate announced by Bank of China, the tuition fees in U.S. dollar are subject to change.
3 The accommodation, visa, field trips, food expenses and insurance in China will be informed in details on the website.
项目时间表
Calendar
学分转换须知
在申请之前,请务必先联系您所在学校的学生管理部门获得选课批准。我们会为学生提供教学大纲,课程描述等有助于获得课程批准,转换学分所需的材料。官方成绩单将于课程结束后尽快寄出。
Grading and Credit Transfer
Students are strongly encouraged to contact your academic advisers or study abroad offices /department for pre-approval BEFORE you launch an application. In order to facilitate the course evaluation, we are more than happy to assist our students by providing official documents, including course description, syllabus, and contact information of professors, etc.
Official transcripts will be mailed to the address students indicated in their applications as soon as possible. The Chinese-English transcripts, issued directly by BIT, will contain detailed information, including the course name, the instructor, final grades, credits , BIT official seal.
联系方式
邮箱:bitstp@bit.edu.cn
地址:北京海淀区中关村南大街05号北京理工大学留学生中心108办公室
电话:(86)010-69940310 010-68918262
邮编:100081
办公室开放时间:周一至周五 9:00-12:00 13:30-17:00
Contacts
E-mail: bitstp@bit.edu.cn
Address: Room 108, Office of International Student, Beijing Institute of Technology,No.5 South Zhong Guan Cun Street, Beijing, P.R. China.
Tel: +86-10-69940310 010-68918262
Working Hour: Monday to Friday, 8:30-12:00 13:30-15:00
相关附件
2019年7月北理学术学分项目申请表 2019 BITACCP Summer session Application Form.doc
2019年7月北理学术学分项目开课大纲 2019BIT ACCP Summer Session Syllabus.zip