To meet the increasing demand of overseas university-level study experience, the International Student Center of Beijing Institute of Technology (BIT) will launch the BIT Academic Credit Program in 2018.
Opening to international students all over the world, the 2018 BIT Academic Credit Program offers courses in Engineering, Inter-culture Communication, Chinese, Finance, Accounting, etc. In order to build up an international, innovative and open program, the BIT Academic Credit Program will invite professors from prestigious universities all around the world.
The program offers rich extra-curriculum activities for students to make their trip to China a rewarding experience. Study tours to museums and historical sites help students to gain better understanding of Chinese culture.
Program Duration
2018/1/20-2018/2/10
Course List
(More information to be found in the syllabus)
Deadline for Application
2018/1/15
Application Requirements
We welcome undergraduate and graduate students from around the world to apply for our program. We require all applicants to provide proof of English proficiency. You have to be qualified for one of the following requirements at least to be eligible to apply for our program.
IELTS score of 6.5 (or equivalent) with a minimum of 6.0 in each skill

Studying or Graduated from an institution where English is the main language of instruction

Successfully passed CET-4 or other equivalent/higher level standard tests
Program Tuition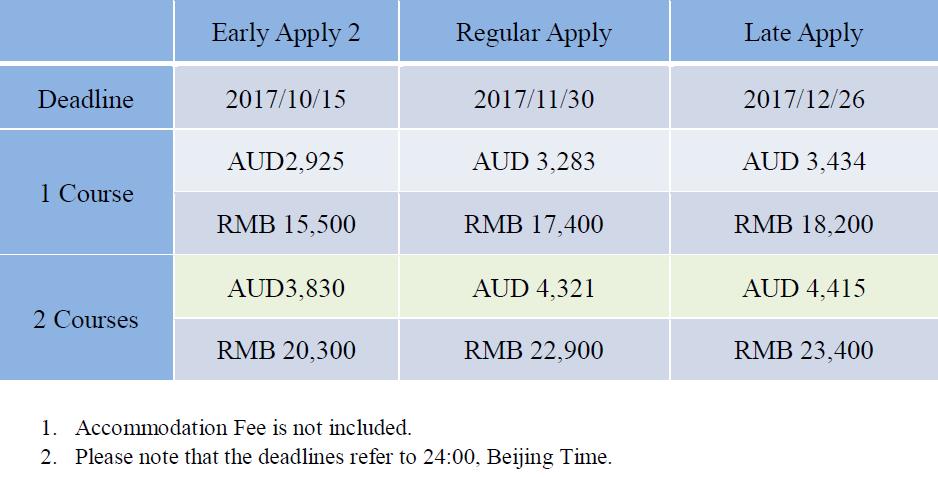 How to Apply
Please submit the Application Form for BIT Academic Credit Program and submit the form via email: bitstp@bit.edu.cn. We will reply your email within 5 working days.
A student should consult his/her home university or college on credit transfer to ensure that the credits can be transferred back BEFORE participating in the BIT Academic Credit Program.
Contact us
Email: bitstp@bit.edu.cn
Address: Room 108B, Office of International Student, Beijing Institute of Technology, 5 South Zhong Guan Cun Street, Beijing, P.R. China
Tel:(86)010-69940310
Zip Code:100081
Click to download
Course Syllabus: (Click to Download)
Application Form: (Click to Download)
Accommodation Application Form: (Click to Download)
北京理工大学国际学分课程
课程介绍
为充分应用北京理工大学(以下简称"北理工")的教育教学资源优势,进一步促进和发展北理工与海外知名大学的交流合作,北理工留学生中心将于2018年开展北京理工大学国际学分课程。2018年项目将开设中文、工程、金融、科研写作等全英文课程。项目讲师来自国内外著名高校,课程按照国际通用的课程设置,引入高质量高标准的国际本科课程,实现与国际知名高校的接轨。
项目授课对象为国内外本科生、硕士生。课程人数上限为50人。授课方式采用研讨式教学、案例教学等多种教学方式,并组织安排学生进行课程实习和实践。
课程时间
2018年1月20日-2018年2月10日
课程列表(下载课程大纲查看更多内容)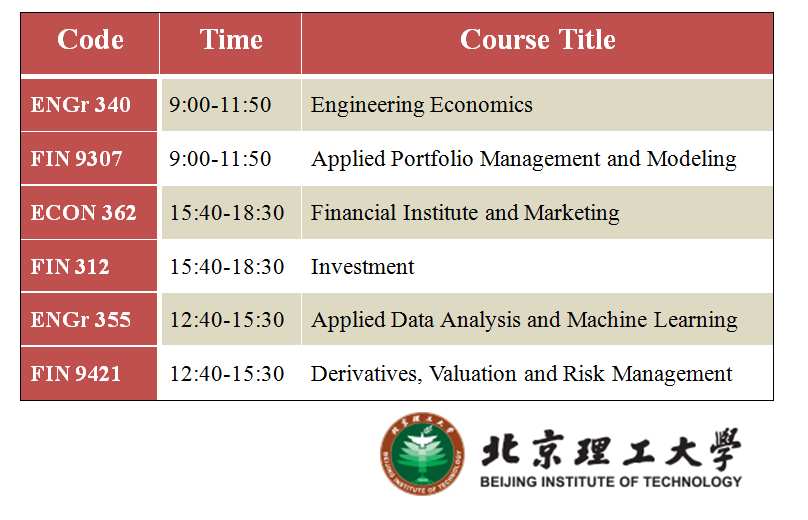 申请截止日期
2018年1月15日
申请要求
我们欢迎来自国内外高校的本科生、研究生参加北京理工大学国际学分课程。参加课程的同学都需经过英文能力的审核。由于所有课程均为英文授课,申请者须至少达到以下其一条件:
A.雅思成绩不低于6.5分,听说读写不低于6.0分;
B.英语为母语或来自于正在以英语作为教学语言的大学学;
C.英文等级考试通过大学英语四级。
项目学费
申请流程
下载并认真填写 《北京理工大学国际学分课程申请表》,扫描发送至项目邮箱:bitstp@bit.edu.cn 。项目办会在五个工作日内通知学生录取结果。学生就读本项目前,须向其所在大学申请预转学分,获得批准后再进行本项目学习。
联系方式
邮箱:bitstp@bit.edu.cn
地址:北京海淀区中关村南大街5号北京理工大学留学生中心108B办公室
电话:(86)010-69940310
邮编:100081
点击下载
课程大纲:(点击下载)
项目申请表:(点击下载)
宿舍申请表:(点击下载)
相关附件