北京简介
北京,旧称北平,是中国的首都,全国的政治文化中心和国际交往的枢纽,也是著名的历史文化名城,与西安、洛阳、开封、南京、杭州并列为中国六大古都。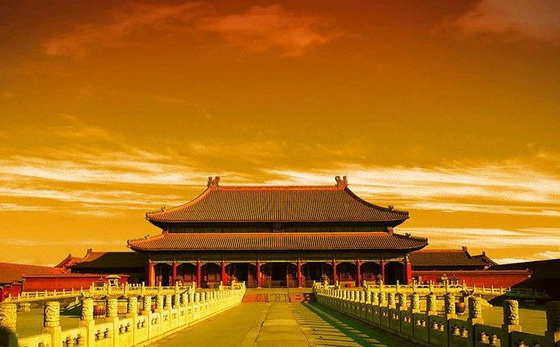 基本情况
北京位于华北平原西北边缘,四周被河北省环绕,东南和天津市相接。全市面积一万六千多平方公里,辖14区、2县,人口2,168.9万人(2015年)。北京夏季炎热多雨,冬季寒冷干燥,春、秋短促,年平均气温10~12摄氏度。
早在七十万年前,北京周口店地区就出现了原始人群部落"北京人"。自公元前221年秦始皇统一中国以来,北京一直是中国北方重镇和地方中心,并先后作为辽陪都、金上都、元大都、明清国都。1949年10月1日正式定为中华人民共和国首都。
北京是全国最大的科学技术研究基地,有中国科学院等科学研究机构和号称中国硅谷的中关村科技园区。北京也是全国教育最发达的地区,其中北京大学、清华大学、中国人民大学、北京理工大学等全国最著名的学府也都汇聚在这里。北京拥有亚洲最大的图书馆在内的24家图书馆,门类众多的博物馆已超过百家。
北京与世界各国、各地区的经济、贸易、科技、教育、文化等领域的交流日益频繁。政府、民间和社会团体之间的友好往来十分活跃,与 45个国家的50座城市建立了国际友好城市关系。北京现有外国驻华大使馆154个,外国留学生23万多人(2015年)。北京曾成功地举办了2008年第29届夏季奥林匹克运动会,并将于2022年举办第24届冬季奥林匹克运动会,这在世界奥运会史上是绝无仅有的。
旅游资源
北京具有丰富的旅游资源,对外开放的旅游景点达200多处,有世界上最大的皇宫紫禁城、祭天神庙天坛、皇家花园北海、皇家园林颐和园,还有八达岭、慕田峪、司马台长城以及世界上最大的四合院恭王府等各胜古迹。全市共有文物古迹7309项,其中国家文物保护单位42个,市级文物保护单位222个。另外,北京出产的玉器雕刻、景泰蓝、地毯等传统手工艺品亦是驰誉世界。
Beijing, formerly Peking, is the capital of the People's Republic of China and one of its most famous historical and cultural cities. It is the national center for politics, culture and international communication. Beijing, together with Xi'an, Luoyang, Kaifeng, Nanjing and Hangzhou are the six ancient capitals of China.
Beijing Municipality, located in northern China, is completely surrounded by Hebei Province with the exception of neighboring Tianjin Municipality to the southeast. The metropolis is governed as a direct-controlled municipality under the national government, with 14 urban and suburban districts and two rural counties. Its population in 2015 was 21,689,000. Beijing is hot and rainy in summer, cold and dry in winter while spring and autumn are short. The annual average temperature is 10 ~ 12 degrees centigrade.
The city's history dates back 70,0000 years to when primitive tribes lived in Beijing Zhoukoudian area. Beijing has been the center of the northern part of China, since Qinshihuang (the first emperor of China) unified China in 221BC. Besides being the great ancient capital for five dynasties, Beijing has been the political center of the country for the past eight centuries. On October 10th, 1949, Beijing officially became the capital of the People's Republic of China.
Beijing is the nation's largest scientific and technological research base. Chinese Academy of Sciences and Zhongguancun Science and Technology Park, which is known as the Silicon Valley of China and other important scientific research institutes are all located in Beijing. Peking University, Tsinghua University, Renmin University of China, Beijing Normal University, Beijing Institute of Technology, etc. all the top universities make Beijing the most developed education regions in China. Beijing has 24 libraries, including the largest library in Asia and more than one hundred museums.
Foreign Exchange and Cooperation
Communication in economics, trade, science and technology, education, culture and other fields between Beijing and the world are increasingly strengthened. Friendly exchanges between governments, civil and social groups are increasing. Beijing has established friendly relations with 124 capitals and big cities of 72 countries. Of these 50 are the Twin Cities of Beijing. 154 foreign countries' have embassies in Beijing. According to 2015 data, there are 235,597 foreign students study in Beijing. Beijing also hosted the 2008 Summer Olympics and was chosen to host the 2022 Winter Olympics, which will make it the first and only city to ever host both events.
Beijing is rich in tourism resources. More than 200 tourist attractions are open up to the public. The city is renowned for its opulent palaces, temples, parks and gardens, tombs, great walls and Hutong. The city has a total of 7309 cultural relics, including 42 national heritage conservation units, and 222 municipal cultural relics. In addition, Beijing's jade carving, cloisonne, carpets and other traditional handicrafts are also famous in the world.